| | |
| --- | --- |
| Page 265: On the Scaffold | January 29, 2018 |
Hey, all. Here's a new batch of Spiderforest comics of the week. And look, Oct20 is one of them! With a little teaser about what's to come up in chapter 3. Oh... That doesn't look good, does it?
Demon Archives by Dan Sharp- As Captain of the Keleres, Tenzin Dorje led his team to defend the people of Minerva from raiders and rival factions. But when a new enemy destroys the Keleres and seriously wounds Tenzin, he'll have to face his personal demons to restore peace to the region.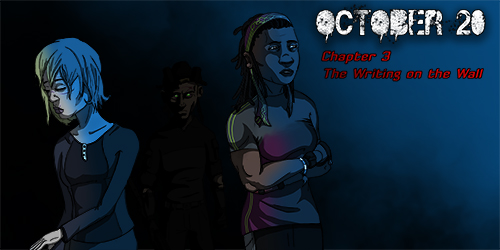 October 20 by Marius Hjelseth- For 12 years, Catherine has suffered agony, isolation, loss and betrayal. Now, she faces her most formidable monster. Her own guilt. Get ready for the final chapter of October 20, as Catherine returns to where all her grief began. Along for the ride are a few surprise allies. And enemies.
Arbalest by L. Potyondy-Edens - A reluctant monster with six months to live learns to transcend her role in an isolated, fearful village.